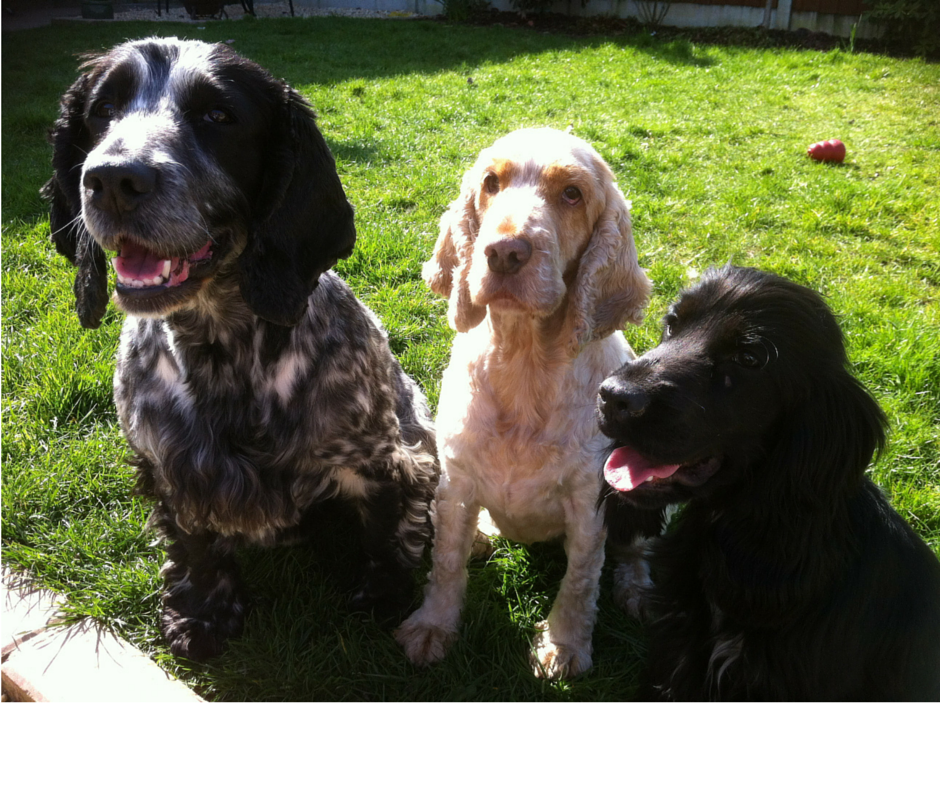 We often make observations and realisations that change the way we do life, for the better. Sometimes they stick. Sometimes we lose sight of those little gems and we fall back into old habits. If we are lucky enough to have a hero to remind us of what we once knew, we should be extremely grateful.
I am the father to a beautiful little girl whom I love with all my heart. I am also dad to three hairy children that were around a long time before my daughter arrived. Ok, so they are dogs, not children. But, to us, they have been our family since day one. More than that, our eldest, Blue, is my hero. I was reminded of the reason for that fact this morning.
Serendipity Strikes
Have you ever had a number of seemingly unrelated occurrences come together to bring you, gently or otherwise, to a new realisation or to reacquaint you with an observation you had made and forgotten or maybe lost sight of over the years?
Well this happens to me quite a bit and it happened this morning!
I live in Blessington, Co. Wicklow, one of the most beautiful parts of Ireland.

So much so it has been named "The Garden of Ireland". Where I live there is a man made reservoir that is, paws down, my dogs' favourite place on the planet, mine too. Having three dogs in this particular instance is fantastic, because it brings me out into this place to drink it in 4 or 5 times a week, all year 'round. When those three dogs are energetic cocker spaniels, that effect is multiplied… because they don't care what the weather's like!! We're out in it hail, rain, shine, snow, wind, you name it.
Falling Back into Old Habits
Recently I've been giving myself a hard time over work rate, success levels, happiness levels and generally being quite self critical. Hey, I'm only human and any coach who tells you they don't suffer along these lines ought to apologise to you, as soon as they wake up.
So this was the head-space I was in as I, and the dogs, made the 2 minute drive from my house to where we start our walk around the lake. All the while our middle hairy child, Belle, is whining and moaning and barking to get there and get going. And it's getting in on me, as it does sometimes. I'm listening on RTE 1 to an interview with André Spicer, co-author with Carl Cederström of a new book entitled "The Wellness Syndrome". The interview is addressing the point that the more we focus on, strive toward and obsess over being happy, the more miserable and unhealthy we actually become. And this point is resonating with me. As he speaks André suggests that:
Existing in the moment, enjoying it and getting on with life
is a much more effective approach toward happiness.
This point resonates with me too… not anew, I've believed and lived this for years…. Just not right now!
Wake Up and Smell the Coffee
So the interview ends and I turn the key in the ignition and step out into what is in effect the first true day of spring this year. The sun is warm, the birds are almost deafening and, once I let her out of the back of the car, Belle isn't whining anymore. In that instant I resolve to stop! Stop judging, stop thinking, stop running. I resolve to breathe, to smell that sweet silage at the end of the lane (I love that smell), to listen to the cacophony of birdsong (which I then realize I haven't noticed the last couple of walks). I resolve to watch and observe the pure joy of those three little animals running along ahead of me. Blue the elder lemon, Belle the little princess and Berry the flibbertijibbet asserting her "scrappy-doo" dominance over Blue – much to Blue's amusement.
Just then I am reminded of an observation I made about 2 years ago when watching Blue play in the same place, but on a very different day.
The Crosses We Bear
Blue has dodgy hips – yes, the vet assures me 'dodgy hips' is the veterinary term for her condition. Swimming helps by building muscle around the area and she is on medication. However, sometimes it gets pretty bad and she is in constant discomfort. This is exacerbated by cold weather, of which we get a bit during the winter. So, about 2 years ago we had a pretty dismal winter, cold, wet and all the other criteria for Blue's "dodgy hips" to play up; which they did, with a vengeance. The poor dog was in a bad way. She couldn't get comfortable; she couldn't get up on the windowsill, or the couch, all the stuff that makes being a dog in our house fun. So basically, she wasn't having any fun… and I could tell.
Until, that is, we hit the lake. Then, the joy, the gratitude, the pure abandon was so obvious it literally took my breath away. There was ice forming on her eyelashes, her limp was still noticeable, and she winced from time to time, but she ran and swam and played in spite of it. I admired, respected and loved her even more than before as a result of observing this behaviour, and I wanted to be like her.

If your joy spins your tail like an outboard motor even though you are soaked through, freezing cold, with 'dodgy hips' and splinters of stick stuck between your teeth, I reckon you've got this thing called life down.
That is why Blue is my hero and that is why I resigned to be more like her.
I just forgot for a while.
Getting Back on Track
Right now, (once you've finished reading that is)
Go outside
Smile at the first person you meet
Maybe pick up a coffee and cop a squat somewhere comfy
Now stop. Listen to the sounds. Hear them.
Smell the aromas of the place you are
Sit there until you are finished sitting there
My wish for you is that you experience the clarity and gratitude that I feel right now as a result.
And if you do, say "Thank you Blue".