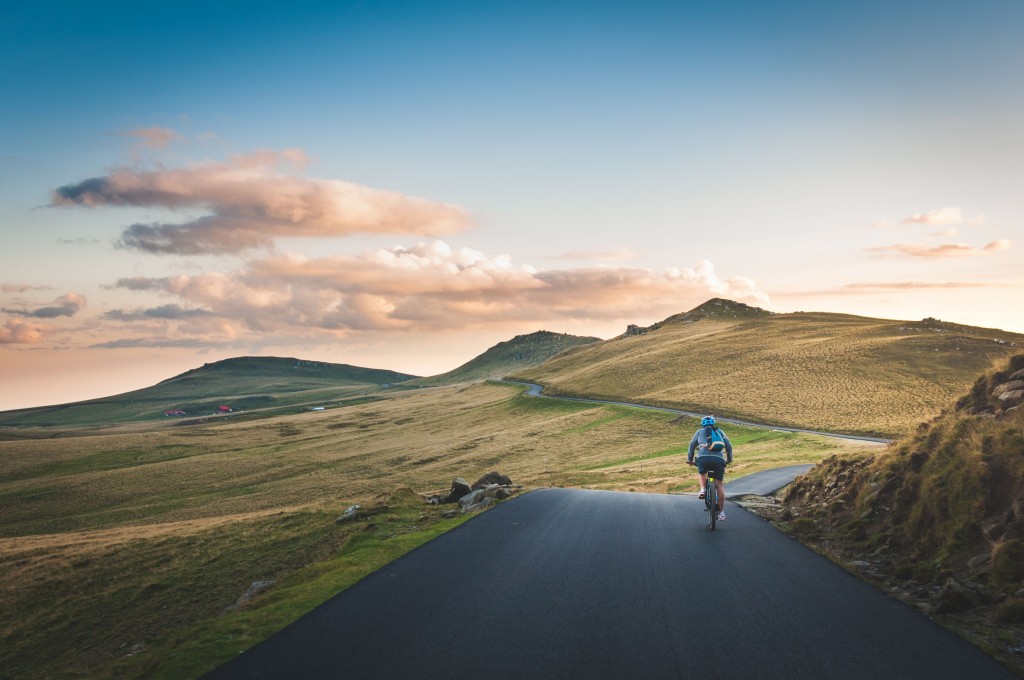 I like cycling. It gets me outside, it raises my heart rate and it provides solitude and headspace. Living in a beautiful part of a country with stunning countryside means that a short spin from the house gets me right out into the wilds.
Cycling provides a slower, more complete perspective of your surroundings. You see so much more from the saddle of a bike than you will from behind the wheel of a car. You see deer prancing across the road in front of you with awe inspiring grace or you match the pace of a fleeing deer not 10 feet from you until it can make good its escape, away from the road, at the end of the fence that corralled its dash for freedom. Seeing something as simple, yet humbling, as the shadow of a cloud rolling out over the wilderness before you gives a real sense of your own insignificance. You can feel so small. Feeling small, when you are big, can be a lovely change of perspective.
As well as presenting a different view of the world around you, cycling gives you time to contemplate what you see.
Recently I had an opportunity to consider what resilience really means, from the saddle of my bike.
A favorite training route of mine is out around the Sally and Wicklow gaps. It's a lovely spin with a few taxing climbs and a lot of open space with nothing but you, the road in the elements to fill it.
Back in April there was a brush fire along the side of a stretch of road on the Sally Gap, for about 2 Km, that left the landscape looking like a throw back to the Cromwellian conquest of 1649. Eerily accentuated by an old ruin surrounded by the scorched earth. The area looked devastated.
A couple of weeks later I went out around the route again and, although the fact that there had been a fire was still glaringly obvious, I was amazed at the green-shoots breaking the surface and softening the previous devastation.
Another couple of weeks and I was out in the saddle again, this time I was met with a carpet of green where the ash had been and I was startled by the sense that nature knows of her own greatness and possesses an indomitable imperative to persist! She took the devastation and twisted it to a more useful perspective, "opportunity for growth".
So, with not much else to do for the next few hours, I got to thinking. What does nature have nailed, with regard to resilience, that us humans don't, and what can we learn from that?
Accept, Forgive and Move On
We hold onto the scars of the past and in many cases those scars shape, in no small part, the person you meet today.
Nature accepts what has happened as fact, forgives and moves on, expending all her energy on regrowth. When we meet her later, yes she looks a little different, a little greener, a little younger, but it is essentially the same landscape as existed before the hurt.
We find it so hard to let go and forgive. The hurt becomes engrained in our genetic memory, whether generational or racial, and defines who we are.
Even now as I sit in the Centre for Peace and Reconciliation in Glencree writing this piece, a poster informing about the 1798 rebellion adorns the wall and I contemplate the ground breaking thought leadership that took place here during the Irish Peace Process, it is brutally illustrated how endemic that hurt becomes and just how long it can take to accept, forgive and move on.
Forgiveness, after all, is not a gift to the person you are forgiving. It is a gift to your self! (Tweet this)
To forgive is to effectively tell yourself;
"That is heavy, you can put it down now!"
and as every cyclist knows, the less weight you're carrying, the quicker you can get up that hill!
Know Your Worth
Nature knows her own greatness. She knows she is appreciated and she knows why. That knowledge fuels persistence, so she just keeps on trucking. She doesn't associate with the circumstance saying; "I am devastated". Rather she says "This is devastating…. Now where's the opportunity in this".
Oftentimes we don't even know our own worth. We don't know why we add value or, worse still, we associate that value we add with what we do. When what we do fails, we become failures. This is very difficult to come back from, and yet coming back from that failure is the very definition of resilience.
At the end of the day, I just like the way nature looks when she brushes herself off and starts all over again. She looks, vibrant, progressive, forgiving. I want to look like that.
The King is Dead, Long Live the King
The conclusion I come to, is that resilience is not only about adapting to stress and adversity. Resilience is about how many times the person you thought you were can die, and you can still embrace what is left as something more than what was there before.
Resilience then, is the ability to :
Accept, Forgive and Move on
Know your own worth
Dissociate from circumstance
Keep on trucking
Persistence is preferable – Paolo Coelho
Or, maybe, as this Paulo Coelho quote once illustrated to me, it's just about keeping on up the Wicklow gap… because if you stop, you're screwed!
See you out on the road.